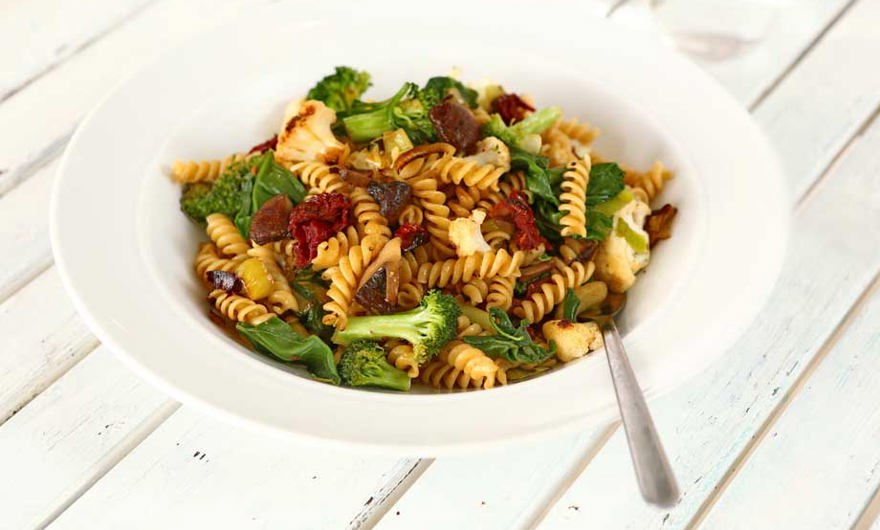 Garden Vegetable Pasta. Recipe: Meirav Puritz. Image: Oren Shalev.
Ingredients for 4 servings
2 courgettes or zucchini
2 leaks (white part)
1 box fresh button or Portobello mushrooms
Medium size broccoli, fresh
Medium size cauliflower, fresh
2 cups fresh spinach or kale
12 sundried tomatoes soaked in boiling water for 5 minutes and strained
Handful fresh basil and oregano
Fresh or dried chili flakes
Sea salt, ground pepper
6 tbsp olive oil
4 crushed garlic cloves
4 cups whole wheat pasta, cooked according to instructions and strained
* You can substitute any vegetable with your favorites
Preparation
Slice the zucchini and leeks into 1 cm rounds
Separate the broccoli and cauliflower into small florets
Cut the mushrooms into quarters and slice the sundried tomatoes
In a hot pan, sauté the broccoli and cauliflower until light brown and place in a bowl, sauté the rest of the vegetables and place them in the bowl too
While the vegetables are cooking, cook the pasta, strain but do not wash!!!
Re-heat the frying pan and add 1 tbsp olive oil, fry the cubes of Tzfat cheese on all sides, take all the vegetables and the pasta back to the pan, sauté lightly, add fresh herbs and serve.
Bon Appétit!