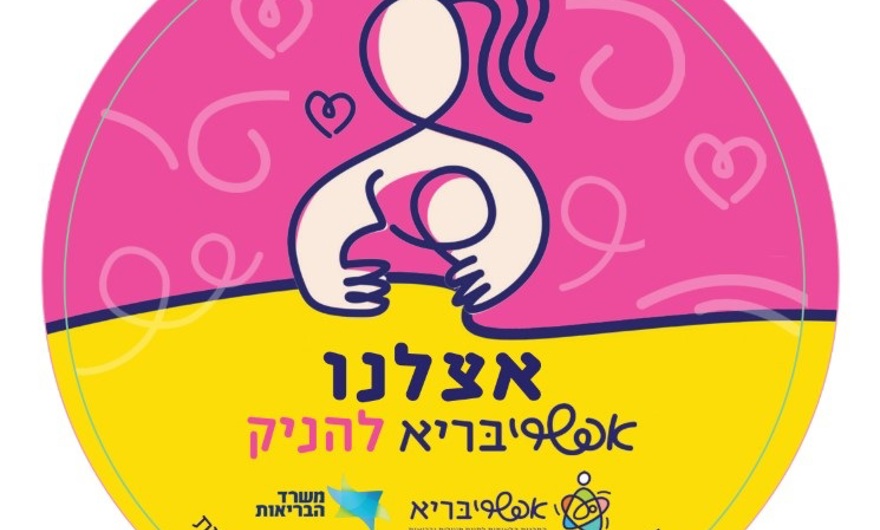 You can 'EfshariBari breastfeed' here
EfshariBari – National Project for an Active and Healthy Lifestyle
Ministry of Health
For further details, search online 'EfshariBari Breastfeeding'
For the first time, the Ministry of Health and EfshariBari will cooperate with shopping malls and the Shopping Center Forum at the Chamber of Commerce to encourage an enabling environment for breastfeeding: Placing 'EfshariBari Breastfeeding' signs in shopping malls and centers, restaurants and cafes, as well as distributing them to the health care system and elsewhere. Another initiative is to encourage shopping malls to announce that they breastfeeding-friendly, instruct employees not to prevent or interfere with breastfeeding women, and to maintain a designated breastfeeding or pumping area for mothers.
The initiative aims to increase awareness of the importance of breastfeeding and a friendly environment for breastfeeding in particular, and to provide a convenient and immediate opportunity for breastfeeding women to identify business venues and organizations that support it. Full version of the joint initiative (Hebrew).
All materials are available for download and printing for interested businesses, clinics and organizations:
Sticker in Hebrew
Sticker in Arabic
Poster in Hebrew
Poster in Arabic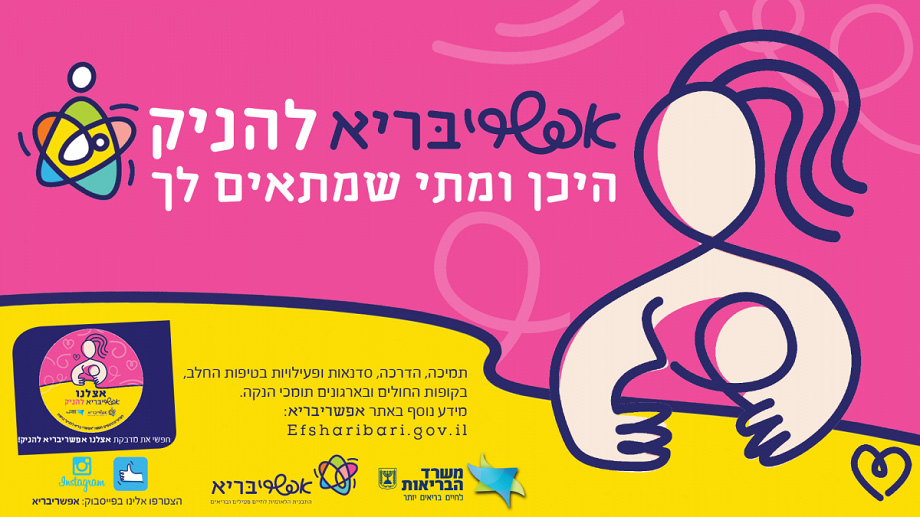 EfshariBari Breastfeeding
Whenever and wherever it suits you
Support, guidance, workshops and activities at Tipat Halav, HMOs and organizations that are breastfeeding-friendly
More information on the EfshariBari website: Efsharibari.gov.il
Frequently asked questions on breastfeeding: where and when it suits you
Why breastfeed when I am away from home and not feed the baby with a bottle?
Breastfeeding is important for the health of both mother and baby. Newborns need to breastfeed frequently in order to maintain mother's milk supply, otherwise amounts of milk are reduced. Breastfeeding both at home and away from home allows a continuity, maintains a routine and increases the chances of breastfeeding success for as long as necessary. Therefore, public places and people who approve of mothers breastfeeding outside the home are supporting the betterment of both mother's and baby's health.
What is a breastfeeding-friendly environment?
An environment that legitimizes mothers breastfeeding in accordance with their babies' needs and mothers' need to manage breastfeeding. An environment such as this is very important to mothers who choose to breastfeed and allows them to leave home with their babies, have a normative life, shop and sit in a café or restaurant without worrying where they'll be able to breastfeed when the baby is hungry.
Are there obstacles to breastfeeding in public in Israel?
There is no law in Israel preventing breastfeeding anywhere and therefore it is permissible anywhere including public areas. Israeli society has different and diverse population groups, and in each group you can find those who think breastfeeding in public places is a positive thing and those who don't think so. Mothers breastfeed in order to satiate their babies' hunger and do not want to draw attention to themselves or offend anyone and therefore, we can expect social tolerance towards them. In private places designated for the public (such as in stores), please make sure breastfeeding does not interfere in any way with normal activities.
In a public place, is it permissible to breastfeed only in a room that is designated for breastfeeding?
Breastfeeding rooms are intended to serve women who want them, but this does not prevent mothers from breastfeeding in other places where the baby is hungry. At the same time, many businesses have a designated area for the benefit of women who want to.
Breast milk is not only food: it provides protection to the baby's immune system. Breastfeeding is first and foremost a health issue. Encouraging breastfeeding is one of the most important public health strategies to reduce the incidence of obesity, diabetes, hypertension, cardiovascular disease and other chronic diseases. Also, encouraging breastfeeding reduces economic and environmental burden on families and society.
Why choose breastfeeding? A long list of studies shows that breastfeeding is beneficial for both mother and baby
Reduction in morbidity and hospitalization due to gastrointestinal, respiratory and ear infections etc. Evidence of a protective effect of breastfeeding on childhood weight gain and obesity.
Evidence of higher (average) IQ levels in breastfed infants.
Risk reduction for breast cancer and ovarian cancer.
The Ministry of Health encourages breastfeeding exclusively up to the age of 6 months, and continued breastfeeding in addition to supplemental feeding up to one year of age, as long as it is appropriate for the mother and baby.
Breastfeeding – your choice
Breastfeeding, with the health issues involved, is the right of mothers and children as part of the right to health, recognized as part of human rights to life and dignity, protected by Basic Law: Human Dignity and Liberty and Court Judgments, Employment Law (Women Work Act, 5714-1954, Student Rights Law, 5767-2007, and Student Rights Rules, in Civil Service By-Laws) requiring the establishment of a breastfeeding room in each government unit and procedures requiring the provision of nursing counselling in hospitals and promoting baby-friendly hospitals.
Breastfeeding-friendly conditions in hospitals
One of the most significant initiatives in promoting breastfeeding is the initiative to establish the Baby Friendly Hospital Initiative (BFHI) which needs to take ten steps to encourage breastfeeding:
Breastfeeding policies routinely imparted to all staff.
Acquire the skills needed to implement breastfeeding policies for all staff.
Inform all pregnant women about the benefits and performance of breastfeeding.
Helping mothers start breastfeeding within the first half hour after delivery.
Guiding mothers in breastfeeding and continuing, even if they have to say goodbye to the baby, for some reason.
Avoid giving any food or drink other than breast milk unless medically indicated.
Rooming in for 24 hours.
Encouraging breastfeeding according to baby's demand.
Avoid giving pacifiers to breastfeeding babies.
Encouraging support groups for breastfeeding women and directing them to community support groups after they leave the hospital.
Additional materials on the Ministry of Health Website
Recommendations for encouraging breastfeeding at work (Hebrew)
Breastfeeding during emergencies and stress
Storage and thawing of breast milk
Feeding the baby in the first year of life
The importance of breastfeeding
Breastfeeding and feeding the baby, Ministry of Health
Breastfeeding and returning to work
Successful breastfeeding tips
Prevention of breastfeeding difficulties
Pumping breast milk
breastfeeding promotion legislation (Hebrew)
Breastfeeding Promotion Committee (Hebrew)