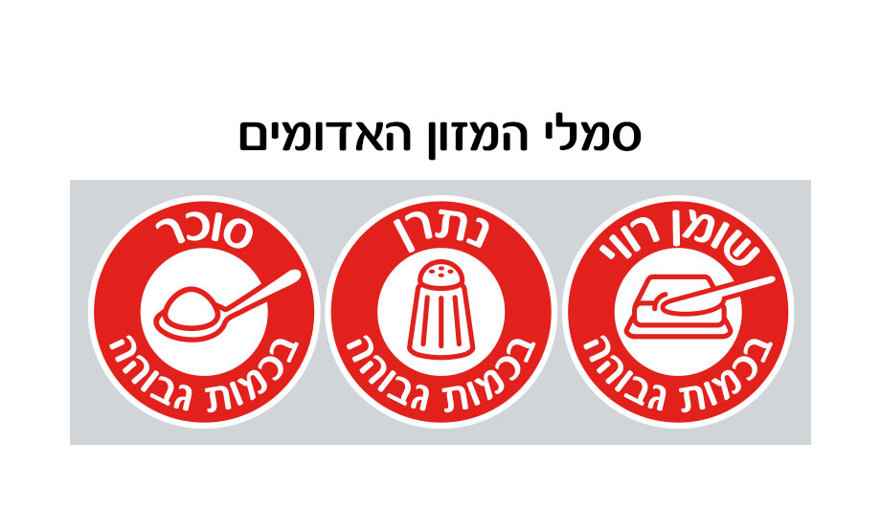 Red Food Labels
High saturated fat content, High Sodium Content, High Sugar Content
After lengthy discussions with all relevant parties in the food industry – industrialists, importers, distributors, retailers, and of course consumer, parent and physician organizations – in December 2017, the Knesset Health Committee approved the new public health regulations which include detailed definitions of harmful foods, as well as mandatory labelling. These foods have red warning labels. This is a breakthrough by the Ministry of Health as part of its activities in the National EfshariBari project which was accepted as part of the recommendations of the Regulatory Committee.
Important to keep in mind: Red labeling for harmful food products is added to all the requirements related to food product labeling in accordance with the Public Health Regulation, the Ministry of Health Food Administration guidelines, and any other relevant law.
Which products will be required to have a red label?
Regulations make a distinction between solid and liquid foods, and the process will have two stages where threshold values for labelling will be changed:
First stage: January 2020
| Labeled item | Quantity in 100 g solid food | Quantity in 100 ml liquid food |
| --- | --- | --- |
| Sodium | 500 mg | 400 mg |
| Total sugars | 13.5 g | 5 g |
| Total saturated fats | 5 g | 3 g |
Second stage: January 2021
| Labeled item | Quantity in 100 g solid food | Quantity in 100 ml liquid food |
| --- | --- | --- |
| Sodium | 400 mg | 300 mg |
| Total sugars | 10 g | 5 g |
| Total saturated fats | 4 g | 3 g |
Labeling practice
Nutritional values will be indicated on the packaging of food in a visible place, in a framed table, in the Hebrew language, if the packaging is too small to allow nutritional marking in a table, it will be marked appropriately in a row or rows.
Red food labels will be placed on the front of packaging, except in a food unit whose front packaging area is not larger than 25 cm2 and if labelled, labels will be permitted to be only on the front of the package as long as the label is clearly visible.
Lack of a mandatory food label requirement according to the regulations, will not, in itself, justify presentation of the food as healthy, recommended, approved by the Ministry of Health or meeting the specifications.
The Food Service of the Ministry of Health has defined a graphic guide file for the use and marking of labels (Hebrew)
The rationale behind labelling
In 2018, the Ministry of Health published a summary of the Regulatory Impact Assessment Report (RIA) written by experts from the Ministry of Health, academia, and international experts. The report shows damage to public health as a result of excess consumption of sugar, sodium and saturated fats and the expected benefit to the economy and society from reduction of consumption of these substances as a result of the reform.
According to the report, Israel leads the consumption assessments of unhealthy food and thus morbidity data. "We are raising an unhealthy generation today, of overweight and severely obese children, which cause morbidity and mortality and directly affect the ability of the next generation to integrate with various social circles, the military and the labor market and will be an unbearable burden on the health system. Urgent intervention and the use of tools that we have not used so far to reduce these effects and save Israel's economic and social future are needed. In this respect – it is a wake-up call before it is too late to act, in the words of the report.
Data summary
Israel is among the world's leading sugar consumers. Teens in Israel are ranked high in the world in daily consumption of sugar-sweetened beverages, 41% for girls and 45% for boys.
About 10,000 people die each year as a result of obesity and poor nutrition (about 23% of deaths).
In recent years, there has been a dramatic increase in obesity: about 30% of children in seventh grade, and over 50% of adults are overweight and obese. Overweight and obesity rates in Arab society reach 38% among children and 70%(!) among women of low socioeconomic status.
Approximately 10% of the adult population has diabetes. Israel is second only to Mexico for rates of diabetes and leading in limb amputation. Among the disadvantaged, the diabetes rate reaches 25%.
Expenditure on health for a severely overweight insured person is 1.7 times the average healthy insured person.
Although data are getting worse, the trend can be reversed, the report argues. To that end, the Ministry of Health has initiated the product labeling reform – red labels for foods whose consumption should be reduced and green labeling, for recommended products.
According to the report, the implementation of the food labeling reform will reduce sugar, sodium and saturated fat consumption by 30% - and thus prevent the mortality of about 2,200 people annually, and at the same time save about ₪ 600 million of healthcare expenses annually.
The more conservative scenario of a 20% reduction in consumption, some 16,300 deaths are expected to be avoided, saving about 4.5 billion ILS over a decade (about 1,630 people a year and about 450 million ILS a year, on average).
Further reading
Graphic guidelines for label symbols in accordance with Public Health Protection Regulations 2017 (HE)
Summary of the Regulatory Impact Assessment Report: Public Health Protection (Food) Regulations (Nutritional Labelling), 2017 (HE)
Full version of the Public Health Protection Regulations, Nutritional Notification, 2017 (HE)
Harmful food labels on the Ministry of Health website
The Food Buying Guide, Ministry of Health website