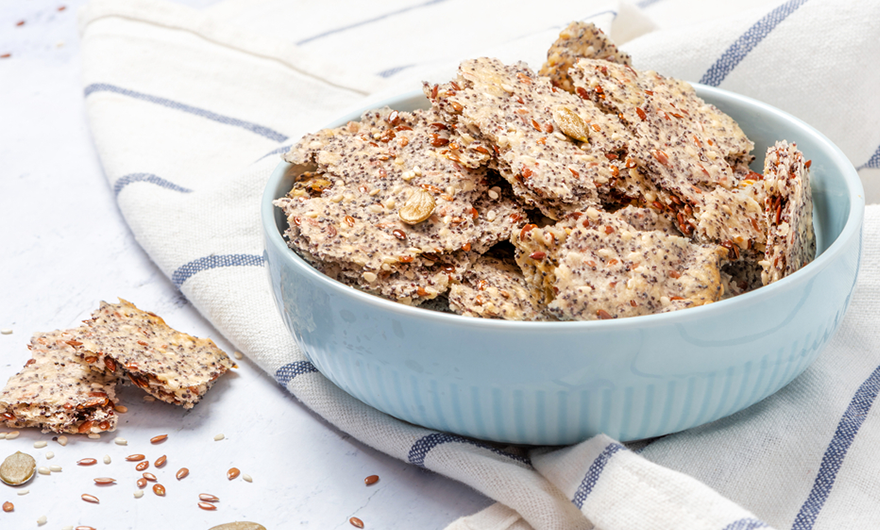 Spelt flour crackers
Ingredients
5 cups spelt flour
One tablespoon salt
One tablespoon sesame seeds
One tablespoon dried yeast
1.5 cups lukewarm water
½ cup olive oil
¼ cup sunflower seeds
¼ cup pumpkin seeds
¼ cup black cumin seeds
¼ cup flax seeds
1 egg
Preparation
Sift the flour into a bowl.
Mix the yeast together with the lukewarm water in a shallow dish / cup, and leave for about 10 minutes.
Add the water and the melted yeast, the olive oil and finally the salt to the flour while stirring and kneading (by hand or in a mixer).
Place the dough in a covered bowl and leave to rise for about 30 minutes.
Divide the risen dough into 3 balls of equal size.
Flatten each ball between two sheets of baking paper on a tray (the size of the baking paper / standard oven tray).
Remove the top layer of the baking paper.
Sprinkle the seeds over the flattened dough: shelled sunflower seeds, shelled pumpkin seeds, black cumin seeds, flax seeds.
Replace the upper baking sheet on top of the dough over the seeds to flatten it again and press the seeds into the dough.
Remove the upper layer, glaze with egg using a brush.
Using a knife or a pizza cutter, cut into squares / diamond shapes.
Place in a pre-heated oven at medium temperature (approx. 180 degrees) for about 10 minutes or until the crackers have turned golden brown.
Further reading